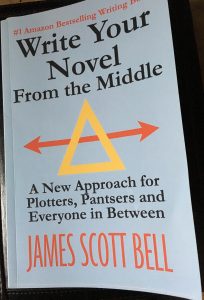 I've almost finished the preliminary study of this book on writing methods.  I say preliminary because I expect to refer back to it from time to time.  I've found it very interesting and helpful.  I plan to test out his statement that most great stories, both books and movies, have a "mirror moment" at the center even if their authors didn't actually plan it that way.  
Regardless, I like the concept of designing the story from the main pivotal point instead of starting at the beginning.  I think that, once you know what your are aiming at, the beginning and ending should take care of themselves.  Bell says you can use this technique whether you are a plotter (create complex outlines) or a pantser (start writing and let it flow wherever).   Since I tend to be a little of both, I think this will help me meld the two together. 
A second suggestion I was glad to see voiced is one I've found myself doing in my own work.  Bell says write detailed histories for the people in your story.  Delve into facets, especially of your main characters, that won't ever appear in the plotline.  Building a complete backstory for your hero/ine will enable you to know them better and make them a more complete person within the story.  
All this time, I thought I was procrastinating and I was really completing an exercise to improve my writing style.  How cool is that?  Overall, I am getting psyched.  By the time my 40 days are up, I may be ready to start back on my WIP.