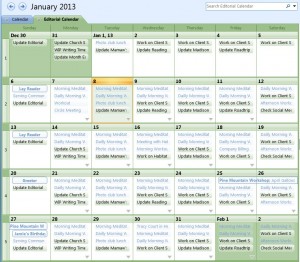 It's that time again. Every year we torture ourselves with looking back at the old year. Reliving the challenges and grading ourselves on how well we handled them….or how poorly. Actually, I start long before the new year.
I watch myself in the beginning as I write up my list and I think…hmmm….that's not going to last. You're going to be "starting over" every week on that idea.
I know I am setting myself up to fail, but I go ahead and do it anyway. Because I firmly believe that we must grow or we will die. Stagnation is deadly. So, I plan to grow. I set goals that I know in advance will be difficult. I accept the fact that it won't be easy and I may not totally succeed. I expect to be continually starting over all year long. That's why my mantra is "You haven't failed until you stop trying."
So, once again, I am laying out a plan for the new year. Looking at my goals for the last one and deciding whether I need to revise them or keep on trying, because I can't really say I completely achieved any of them. However, I can say I've progressed on most fronts.   I, also, achieved things that weren't really on the agenda, things that I'm pleased about.
I grew, just not exactly the way I had planned. You know that cliche about, "Man makes plans and God laughs?" I am one of the most amusing people God knows. But, I'm not starting to decay, just yet. He's still having fun with me. So, we'll play another round.
Here I am, Lord. Making plans. Just don't get the idea that I think I'm in control. I know I'm not. I know there will be hitches and halts along the way. I promise to listen for your whispers.
So, I am in the process of trying to revise my calendars, both the agenda and the editorial. Taking off things that are not a real priority, moving things around that I KNOW I should find a way to accomplish, making room for the tasks that the "still small voice" in my heart is asking me to continue working on and the new one He has suggested.
It's early yet since I don't have my acceptance letter but, since it really just looks like a case of waiting on paperwork, here's my first public announcement: I am registering at WKU for their BA degree in Religious Studies. It's not just about Christianity, it also provides an introduction to most of the world's major religions. I have long been a promoter of the fact that Judaism, Christianity, and Islam, all worship the same God. All three religions are built on the same foundation. They are simply using different floor plans. Now I feel called to delve into the synergy to be found between the three as well as others.
Many of the required courses are offered online or at the Owensboro Community College campus, which is less than an hour from me. However, it will be necessary at times to drive (90 miles each way) back and forth to the main campus at Bowling Green. Working this into my already busy schedule will be a challenge, but I've managed it before and I'm sure I can again.
In fact, I am thinking the added pressure may force me to prioritize my time more efficiently and result in getting more done instead of less. As it is now, I always have that feeling in the back of my head that there are no REAL deadlines, so I can procrastinate as much as I want. Perhaps creating a more structured environment will force me to concentrate on getting things done.
To begin with, I plan to only take one or two classes a semester. It's not like there is any urgency to complete the course and I have no plans to use the information for anything more than my own satisfaction and spiritual growth. What God plans is not clear as yet.  I am sure it will be revealed eventually.