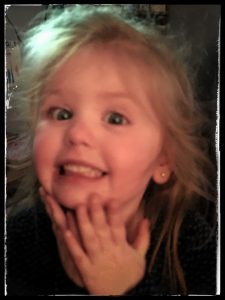 My current career is child chauffeur.  I pick up various great-grandchildren and take them either to or from school every day.  On Mondays, I also take a couple of them to and from choir practice.  On other days there are: playdates, karate practice for one of them, and trips to the library for a couple, among other appointments or activities.  It can sometimes make for a busy day, especially when their gigs overlap.  Luckily, my brother, Jim is willing to assist at those times.
One of my passengers is our 4 year old princess Elaina.  Most days, I pick her up at her mother's office.  The most direct route from there to her preschool passes the main Fire Station.  In true toddler fashion, she has become fascinated with the fire trucks.  She counts them, notes how many are missing, compares the smaller ones to family vehicles, and voices opinions about the various configurations of parking and activity.  Today, was a perfect example of the way the mind of a child works.
Me:  Looks like they are all inside with the doors closed today.
Elaina: They are napping.
Me: You think so? I guess that's possible.
Elaina: Yes.  When the doors are closed they are napping.
Me: Is that so?
Elaina: Yeah.  When the doors are closed they are napping.  If they are inside with the doors open, they are eating and, if they are outside, they are playing.
When they are outside, they are frequently surrounded by firemen who are washing them or otherwise attending to maintenance tasks.  I'm not sure how this equates to "playing" in her mind; much less how being inside with the doors open means "eating" but I find the way little ones relate the world around them to their own private lives truly fascinating.